6' 60 gram Silver W/ Tinsel Feather Boa
1W-FB60SI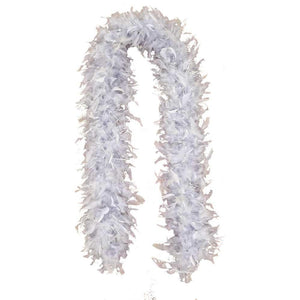 6' 60 gram Silver W/ Tinsel Feather Boa
1W-FB60SI
Regular price
Sale price
$4.99
Our silver with tinsel 6' 60G plush turkey feather boas are a fantastic and low cost item for accessorizing a costume, handing out at a party or event!
Color: Silver with Tinsel
Length: 6 feet
Weight: 60 grams
Quantity: 1 boa
Material: American turkey feather.
Packaging: Individually poly-bagged.
Care Instructions:

Remove boa from poly bag, place in garbage bag (to contain the mess of shedding)
shake hard for it to release loose feathers.
Then lay it flat for few hours. These steps will reduce the amount of shedding experienced over time.
This will help reduce future shedding and also spread out the feathers for a full look.

Storage: Water-based dye, do not store under moist conditions; darker colors may bleed.
Similar products
Customers who viewed this item also viewed